01/30/2012 09:23
WHAT I CHERISH THE MOST?
I love getting fit, healthy and even feeling stronger, but the best part of my "Commit 2B Fit" experience, is the friends I have made during my journey. I found so much more joy in other people's excitement about their own goals and progress. I'm even more motivated by those who are ready to join in on getting active, whether it is trekkin it, zumba toning, walking/jogging a 5K or just catching a
class at Gold's. With my day to day struggles with Rhuematoid Arthritis, you ladies make everyday worth the sweat, aches and pain. Yes, the results are amazing, but your friendship far surpasses any of the happiness I could ever feel from just losing weight and toning my body. I appreciate you all and welcome anyone who wants to tag along in committing to being healthy and fit. May we all be each other's support system, because it isn't easy to shed and cut weight. Get it Girls! It's X2 Rise & Grind! ♥
01/30/2012 09:22
SILVER SNEAKERS
Last night while at Zumba at Gold's, all the ladies were talking about a new class added to their schedule for the older crowd, called Silver Sneakers. IDKY but today (for not apparent reason & it wasn't part of my plan), but after our workout, I asked my husband if we could stay for one more full hour while I try this new class. At first I got a lot of weird looks from people because I joined the
class and there was nothing but old woman in there 50's and up getting set up for the class. I didn't care, I got the heaviest weights, the hardest resistant band and the bigger ball with my chair. OH.EM.GEE what a work out. I had a puddle of sweat on the floor at the end of the class. Cheers to them Gma's doing their thing up in there! That class ain't no joke. Ya'll should try it! ;P ...and dasswassup...OISH! LoL! :)
01/30/2012 09:22
ISN'T ENOUGH?
What you put in your body will show in your performance. What you eat in private will definitely show in public. The greatest wealth is health. Feeling healthy and feeling good about yourself is not a luxury, it's an absolute necessity.

01/25/2012 19:58
WORKOUT SCHEDULE...
Mondays
Zumba Cardio @ Gold's Gym @ 8:00pm (free w/membership)

Bike Riding for 1 full hour, near trail or in neighborhood.
Tuesday
Zumba Toning @ Sweet's in Provo @ 9:00pm ($3.00 fee)
Cardio Cinema @ Gold's for 1 full hour.
Wednesday
Zumba Cardio @ Gold's in American Fork @ 9:30am. (free w/membership)
Walk 5 miles along trail in Saratoga Springs.
Thursday
Zumba Toning @ Sweet's in Provo @ 9:00pm ($3.00 fee)
Swimming at Lehi Legacy Center (Recreational Center)
Friday
Boot Camp Class @ Gold's Gym in American Fork @ 9:30am (free w/membership)
Dance Central 2...50min. Playlist.
Saturday
Turbo Kick class @ Gold's Gym in American Fork @ 10:30am (free w/membership)
Hike "Y" in Provo.
Sunday
REST EAZY!
Take a break & breathe!
If you need to get hooked up with a gym membership, hit up my brother
Solomone "Mone" Tuha
on Facebook, for a sweet deal. Stay Busy Everyone & Keep it moving. Positive Vibes... all day every day!
01/14/2012 23:35
FINALLY HIT MY 200 MARK! YAY, 200 POUNDS... 10 TO 20 POUNDS TO GO! AWWWREADY! :)
01/13/2012 10:48
TO FEEL "FIT AS A FIDDLE," YOU MUST TONE DOWN YOUR MIDDLE.
Focus on your Core!
Core Training & Workout Tips & Tools!
POPULAR CORE STRENGTH TRAINING EXERCISES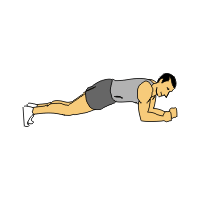 PRONE BRIDGE
IN A FACE DOWN POSITION, BALANCE ON THE TIPS OF YOUR TOES AND ELBOWS WHILE ATTEMPTING TO MAINTAIN A STRAIGHT LINE FROM HEELS TO HEAD. THIS EXERCISE FOCUSES ON BOTH THE ANTERIOR AND POSTERIOR MUSCLE GROUPS OF THE TRUNK AND PELVIS.
LATERAL BRIDGE
START ON YOUR SIDE AND PRESS UP WITH YOUR RIGHT ARM. FORM A BRIDGE MAINTAINING A STRAIGHT LINE FROM YOUR HAND TO YOUR FOOT. REST ON YOUR ELBOW TO INCREASE THE DIFFICULTY. THIS EXERCISE FOCUSES ON THE ABDOMINAL OBLIQUES AND TRANSVERSUS ABDOMINUS.
SUPINE BRIDGE
LYING ON YOUR BACK, RAISE YOUR HIPS SO THAT ONLY YOUR HEAD, SHOULDERS, AND FEET ARE TOUCHING THE FLOOR. THE SUPINE BRIDGE FOCUSES ON THE GLUTEAL MUSCLES. STRONGER GLUTEALS HELP MAINTAIN PELVIC CONTROL.
PELVIC THRUSTS
LIE ON YOUR BACK WITH YOUR LEGS BENT 90 DEGREES AT THE HIP. SLOWLY LIFT YOUR HIPS OFF THE FLOOR AND TOWARDS THE CEILING. LOWER YOUR HIPS TO THE FLOOR AND REPEAT FOR THE PRESCRIBED NUMBER OF REPETITIONS.
RUSSIAN TWISTS
1. START BY SITTING ON THE FLOOR WITH HIPS AND KNEES FLEXED TO APPROXIMATELY 90 DEGREE ANGLES.
2. GRASP A MEDICINE BALL OR SMALL DUMBBELL AND SWING IT TO THE RIGHT AND LEFT AS YOU KEEP THE HIPS FROM ROTATING WITH THE SHOULDERS.
3. THE ARMS ARE NOT PERPENDICULAR TO THE TORSO, BUT INSTEAD, KEPT LOW, NEAR THE THIGHS, AS THE MEDICINE BALL IS SWUNG TO EACH SIDE.
GOOD MORNINGS
1) STAND WITH FEET SHOULDER WIDTH APART WITH KNEES SLIGHTLY BENT (AT 20).
2) START POSITION: GRASP BAR WITH OVERHAND GRIP SHOULDER WIDTH APART. BACK SHOULD BE STRAIGHT IN A NEUTRAL POSITION.
3) BENDING AT THE HIPS, LOWER BAR TO APPROXIMATELY KNEE HEIGHT. KEEP KNEES BENT AT 20 THROUGHOUT MOVEMENT.
4) RETURN TO START POSITION.
5) REMEMBER TO KEEP BACK STRAIGHT - MOVEMENT SHOULD OCCUR AT THE HIP. TO FACILITATE THIS, SHIFT GLUTES BACK AS IF READY TO SIT DOWN. KNEES SHOULD NOT MOVE FORWARD BEYOND THE TOES.
DUMBELL LUNGES WITH CROSSOVER
1) START POSITION: STAND WITH FEET HIP WIDTH APART. GRASP DB'S AND HOLD OUT IN FRONT OF BODY.
2) STEP FORWARD 2-3 FEET FORMING A 90 BEND AT THE FRONT HIP AND KNEE. DO NOT ALLOW FRONT KNEE TO EXTEND PAST THE BIG TOE - MAY CAUSE INJURY. AS YOU ARE LUNGING SWING DUMBBELLS ACROSS BODY TOWARDS THE HIP.
3) PUSHING OFF FRONT FOOT, RETURN TO START POSITION WITH LEGS AND DUMBBELLS.
4) REMEMBER TO KEEP HEAD AND BACK UPRIGHT IN A NEUTRAL POSITION. SHOULDERS AND HIPS SHOULD REMAIN SQUARED AT ALL TIMES.
5) WATCH FOR PROPER KNEE ALIGNMENT - DO NOT LET FRONT KNEE EXTEND PAST BIG TOE OR DEVIATE LATERALLY OR MEDIALLY. BACK KNEE SHOULD NOT COME IN CONTACT WITH FLOOR.
OTHER EXCELLENT CORE STABILITY EXERCISES INCLUDE:
LAT PULL DOWNS

LEG PRESSES/SQUATS

CRUNCHES AND CRUNCH VARIATIONS

REGULAR LUNGES

BACK EXTENSIONS

DEADLIFTS
01/13/2012 10:10
I BELIEVE IN YOU & ME!
I have changed the name of my blog, because it's been a struggle. My weight loss story is a unique one because it's a touchy subject for me, but I still want to share it. It all started when I was diagnosed with Rheumatoid Arthritis over 3 years ago. I was incapacitated for an entire summer, which was devastating to say the least. I decided that I wasn't going to let this defeat me; my chronic inflammation of rheumatoid arthritis is progressing rapidly or quicker than I expected. So it's been a day to day struggle for me. I wake up with enormous swelling in my ankles, knees, shoulders, elbows, wrist and fingers. Most mornings, I cannot move at all. Most days, my husband has to pull me up out of bed, carry me to the bathroom, and assist me in showering, dressing and helping me to the living room where I take medication to bring down the swelling in my joints.

Although, my soul gets frustrated with my body, I'm always trying to remain in good spirits. However, I wanted to work out so bad. My family had to visit the pharmacy to pick up my prescriptions which include, Prednisone (which is a steroid), Methotrexate (Cancer pill), IB800 to help with the inflammation, Humira (shots/injection) RA treatment, and Percocet or Lortab 10 for pain (taken only when needed). I have already gone through the worst period of my life, detoxing by dropping 7 of the 11 medications prescribed by my family physician and specialist for my chronic pain. I only take the steroids, anti-inflammatory and pain reliever when needed, not every day. All heavy prescriptions narcotics have been dismissed from my list of meds. Although, I thought I was going to die during my withdraws, I quit cold turkey, ready to clean out my body of all these toxins.

These past few days, including today were a bit rough and I had a meltdown. However, just like every other day, I'm relying a whole lot on prayer, DoTerra oils and my weekly injections. Today, I was at my worst, with pain, so I took some steroids and pain relievers (which I have been avoiding) and it did not kick in until about 9pm. So I put on my Nike Frees, turned on Dance Central 2, set up a 20 song playlist, and started my 50 minute cardio work out. This was the funniest way to get my cardio in for the day. This game let me choose a 20 song playlist to dance to. I burned a little over 2000 calories, which is calculated by the points you get for hitting every dance move and of course (being the dancer I am), I had this game set on Level=HARD. YAY! Get it! :) Felt so good, but also made me sore. I stretched out for a good 15 minutes, trying to get every muscle. This calming method had me relaxed and ready to hit the hot shower. YES!

I love the gym, especially the sauna. Interesting conversations occur in the sauna, LoL! I sit in there a lot after my cardio, so ease the muscle. I'll even stretch in the sauna to help loosen my tense muscles. I lift light weights in sets of longer repetition, for toning and cutting weight. I have set an A day for upper body and B day for lower body. Weight lifting and toning will allow your body to continue to burn calories while you're resting. I hit abs every day, along with cardio. I recommend Cardio, every day. All types of ways to get your Cardio in for the day. Don't do the same thing every day. You need to confuse your muscle in order to get results that won't send you into plateau mode.

I have been juicing (green smoothie) this week and I feel like my body is getting rid of so much more junk, especially my meds. In my juice, I've included green sour apples, Asian pears, grapes, pineapple, beets, radish, celery, carrots, broccoli, kale, spinach leaves, and cucumber. I juice twice a day and take in one protein shake in the middle of the day. I juice to get rid of a lot of the toxins built up in my system and it really helps to ease my bowel movements. I try to keep it as healthy as possible so I'm not spending too much time at the gym and more time at home with our daughter. When I eat, I have really learned that the key is PORTION CONTROL. Last week, I just ate whatever I wanted, but little by little and I did not gain a pound, In fact I lost 2 pounds. I'm always listening to my body. Am I full or am I just eating because the food tastes great. You really need to learn to stop when you're really full. Don't starve yourself, it's not healthy and can actually do damage to you in the long run. Just EAT to LIVE and try hard to not LIVE to EAT. Your intake is the key. Your workout is just a plus.
It's a day to day struggle for me. It does get me down to see our daughter dance and do cart wheels, when I'm feeling disable. That's why I cannot stress it enough, that if I can do it, so can all of YOU. I believe in me and I believe in all you Ladies! I've got nothing but mad love and respect for you, who are striving to live a healthier lifestyle. So please feel free to ask me anything any time. The great thing is I do a whole lot of reading and research online via blogs, articles and other really neat sites. I have so many relatives, including my husband and brothers who are constantly critiquing, encouraging, and supporting me along my journey, with tips and informative sites to help along the way. So, if I get advice and it works for me, I'll post and share it. All advice is all free! Take it! Like everything else in life that's free, take it. Don't hesitate to take it to heart. If it's free, then it's for me. Loll! One Love & God Bless! Cheers to a healthier and sexier YOU! ♥
01/05/2012 17:04
PHENTERMINE!
If you are really struggling to get started and you're considered over weight or obese, visit with your family physician and let them know your concerns with regards to your struggle. Your doctor
may be able to prescribe some phentermine for you. It comes in 2 different mg. There's the 30 and the 37.5mg, which is stronger. The only side effects is having that cotton dry mouth feeling, which will make you want to drink more water than normal. It's a great way to get started and the doctor may only be able to prescribe 3 months of it, so don't rely on it. It's just there to help you cut down your intake on your own.
01/05/2012 17:02
SMILE AND SAY CHEESE!!!!
During your journey to a healthier you, get your camera's out and don't be afraid to take pictures of yourself everyday to document your changes. Smile and say Cheese (not vain)! LoL! Have fun with it.
01/05/2012 08:26
WEIGHT?
Start Weight: 280lbs. (2011)
Now Weight: 202lbs. (2012)

Almost 80 pounds Ya'll! xo YaY! :)
01/05/2012 08:23
A FEW TIPS ON FB!
Everyone's been asking for weight losstips and I'm not fitness or weight loss guru, but I have picked up a few things that have helped along the way. Also, with cousin Gina Fonua's permission, I'll have you added to our Health to Thy Navel page on Facebook, which is a very informative page with tips that would definitely benefit you all.
1. When picking up fast food on the go, get a regular hamburger w/o cheese, but with all the lettuce, tomatoes and pickles, and eat it alone with Powerade or water...Never NEVER Never get fries for side, because you could actually drop weight just eating the burgers alone.
2. Weight yourself everyday (Morning, Noon, Night). Great way to stay motivated to hit the gym or do something active.
3. Keep a food diary, you'd be amazed at how much you took in that day, and it will make you want to take in less the next day.
4. Try to burn as much as you ate or will eat that day. Have fun burning the calories doing Zumba, Hot Hula, or dance if you don't like the treadmill, elliptical or stair climber. Always stay active.
5. Cut down your intake. Really Really Really listen to your body. Don't eat more than you really need to. Remember to eat to live, not live to eat. Try out new things, fruits, veggies, even try cleansing through Power Lemonade Cleanse or Green Smoothie Juicing.
6. Invest in getting healthy. Start purchasing work out clothes, Ipod with music that'll make you move. Get excited about Nike's, Reeboks, New Balance... see what works for your feet. Get excited about looking and feeling good at the gym, and you will want to make it all worth it by putting in the work at the gym.
7. Get your family involved. Start cooking healthy! A family that prays together stays together, so does a family that works together to get healthy. Get your kids excited to eat well and to stay active. My favorite healthy meals came from Food Nanny on BYUtv. Check her out, it doesn't just apply to LDS members but everyone.
8. Stop talking about it and Just Do It! Only you can make this change, only you can make the difference in your home and within your family.
9. Vitamins... Take your vitamins! I promise they really make a difference.
10. Eat a big breakfast, light lunch, snack on Fruits and Nuts and eat a hearty healthy dinner. Try Try Try not to eat after 7pm. Get your kids to bed on time so you don't have to feed them more than you gave them for dinner. Also, go to bed on time so you don't find yourself eating everything and anything after hours. I cannot stress enough how much of a difference you'll notice in your weight when eating before 7pm or even 6pm.
Hope that helps just a bit, but look out for more tips and stories to help you maintain your 2012 goals to live a healthier lifestyle. Anything I can do to help, even if it's one on one through private inbox messages, I'm here for you and want to help you. So you all know I'm yours and let's stay positive about it all. If I can do it, so can you, I know you all can! One Love ya'll! XO♥